An excerpt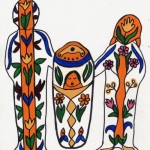 here of a very strange story from today's Washington Post, which offers a real challenge to notions of citizenship within the same country.
"The Supreme Court decided Friday to take on a case after considering a petition from adoptive parents Matt and Melanie Capobianco, who would like to regain custody of 3-year-old Veronica, returned to her biological father, a member of the Cherokee Nation, more than a year ago on New Year's Eve 2011.
The nation's high court will look at whether a non-custodial parent can invoke the  to block an adoption carried out legally by a non-Indian parent under state law. Also at issue is the definition of "parent" to use in applying the Indian Child Welfare Act: Should it include an unwed biological father who has not followed state law to claim his parental rights, or does so belatedly?
The story of Baby Veronica, as she's been dubbed by the media, is guaranteed to break your heart. The Capobiancos, of Charleston, S.C., arranged with Veronica's birth mother to adopt the multiracial child. They were present for her birth in September 2009 in Oklahoma; Matt even cut the umbilical cord.
The birth mother assured the Capobiancos that the birth father had relinquished his paternal rights. But when Dusten Brown, who was serving in the Army and stationed at Fort Sill, Okla., was served with papers stating he would not dispute the adoption, he disagreed and fought to get custody.
The details are spelled out in the decision of the South Carolina Supreme Court, but it's a "he said — she said" story. He claims he wanted to marry the birth mom; she says he didn't want to provide support.
Caught in the middle of the drama are the Capobiancos, who made a home for the little girl they loved as their daughter and then were ordered to give her up by the South Carolina Supreme Court, which stated in its decision: "Adoptive Couple are ideal parents who have exhibited the ability to provide a loving family environment for Baby Girl. Thus, it is with a heavy heart that we affirm the family court order."
It's because of Veronica's Native American heritage that the state court had to abide by the Indian Child Welfare Act, a federal law, and give preference to the biological father."