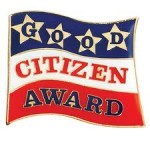 By Maria Patsarika
What makes a citizen? I wonder, reading Matthew Engel's
article
"UK citizenship tests: why we need them." Does a certificate personify all attributes of citizenship in all its complexity?
During the seven years that I spent in the UK the prospect of coming back home (to Greece) kept at bay the anxiety of developing some certain Britishness within me. However, this is not the case for everyone, especially for those driven by the need to migrate to a different country. Being granted a certificate certainly makes one feel "settled," as is often acknowledged.
Is this the same with being a citizen?
Legally, yes. Perhaps for some this is enough. After all, fully adopting a culture different to one's own is almost impossible. However, respect, responsibility and commitment are not. On the contrary, these are universal values, embodying the notion of citizenship.
Beyond the superficial level of passing the test lies finding the balance between the boundaries that the host country sets and one's willingness to respect those boundaries and embrace its culture. Perhaps citizenship is about good citizenship after all: keep it at the level of "just avoiding queues at Heathrow airport" and you miss the whole point.