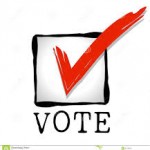 By Michael Ertel
NB Michael Ertel is Supervisor of Elections in Seminole County, Florida, where he has served since 2005. He spoke at two Dukakis Center events during the 2016 election period. Politis reproduces these remarks with permission of the author.
When I tearfully hugged our staff as they left the building last night, my tears weren't for a job completed — they were tears of pride and gratitude. America's Finest Elections Team isn't a slogan or a marketing term — it's a reflection on the people who serve our county's democracy. With the a budget that is (by far) the lowest in of any elections office in the region; this team proctored what was (by far) the highest voter turnout, with the shortest lines in the region.
I could write for pages about the month of 16-hour days, the number of ballots mailed, applications entered, voter contacts, etc. But the numbers aren't what makes this team special; it's the dedication. When the rules were changed, we adapted. When candidates and others who know we can't fight back tried to intimidate us, we stood strong and kept our composure. When others who didn't know we could fight back tried to intimidate us, we overcame. When a natural disaster threatened pollworker training, they still came.
They all came. This team never let our standard of excellence slip, even as the pressure mounted. There were no shortcuts taken, just longer hours to ensure the job was done right.
And as you the voter cast your ballot, you likely had no idea the act of inviting 291,964 people to an event with zero room for error, watched by the world, with an outcome that would disappoint nearly half the population, was proctored by a small team of dedicated folks. And that's by design.
Your role as a voter should be easy, and made simple. Our role is to provide you with efficiency, service and a process you can trust. America's Finest Elections Team excelled at the job at hand. Like it always does. That's why tears accompanied my hugs.