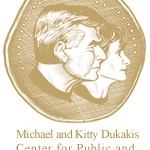 By Lauren Rothschild
NB Lauren Rothschild is a Freshman at Northeastern University majoring in international relations and political science and studying abroad at ACT and interning at the Dukakis Center during the Fall 2016 semester.
On Saturday October 22nd, the Olympion Theater in Thessaloniki hosted the 5th annual symposium on World Affairs, with this year's theme being "In Search of Stability". The symposium kicked off with a session called "Managing Human Flows in the Age of Globalization" which aimed to specifically discuss the recent increase in refugees from Syria to the European continent and how policy makers and governments have been reacting.
The first distinguished speaker was Dimitrios Avramopoulos, the European Commissioner for Migration, Home Affairs and Citizenship. Mr. Avramopolous spoke about the values that the current refugee crisis was putting in question in the European community such identifying where the difference between legal and moral responsibility lie as well as learning how to draw the line between nationalism and patriotism. On this second point, Avramopoulos described both sentiments as being proud of your country, but nationalism takes an extra step of making one think that their country is better than the rest. The Commissioner spoke against this type of thinking and instead stressed the importance of a "consistent and stable response that stays loyal to the European vision" when responding to the humanitarian crisis. His speech also mentioned that it is not valuable in the international community to be critical of existing propositions if you do not have a better idea of what should be done to solve the situation. As for his main argument and most emphasized point, Avramopolous called for strengthening of the Schengen community. He heavily stressed this belief by stating that "Schengen is the best of the European Union" and if Schengen is defeated, "it would be the beginning of the end of Europe". He then went on to say that a key way to keep Schengen alive is to increase the trust between countries in the region so that information can be efficiently exchanged in organized matter in order to benefit Europeans and the response to the refugee crisis. The Commissioner b clarifying that although he was certainly not a Marxist, he thought one of his quotes was appropriate to showcase during this time in European politics, "Men will repeat history because they don't read it".
The next speaker in the session was Demetrios G. Papademetriou, President of an American think tank called the Migration Policy Institute (MPI) as well as President of a Belgian non-profit organization focusing on international migration called Migration Policy Institute Europe. Certainly an expert in this field, Dr. Papademetriou was able to offer the perspective of a non-partisan and research based view on the refugee crisis. While he was very informed about the flow of Syrian and other Middle Eastern refugees coming to Europe, he spent the majority of his time speaking about refugees from other parts of the world as well, specifically Africa. He emphasized the long-term nature of some of the camps in Africa, stating that "Some of these families have had three plus generations living in these camps". As for the next part of his speech, Papademetriou spoke on the governmental response to refugee flows. Ina somewhat under impressed report, he said that the common trend of governments in the United States and Europe is to "throw money at the problem" instead of investing in planning out long term strategies that are sustainable. Additionally, he finished by stating that governments have a tendency to overpromise and under deliver and the key to solving this would be to promise a bit less and deliver a lot more.
The final speaker of the session was Austrian Gerald Knauss, Chairman of the European Stability Initiative and founding member of the European Council on Foreign Relations. Dr. Knauss was able to provide a very fact-based look at the refugee flows to Europe, accompanied by various charts and graphs on a terrific power point. A highlight of the presentation was the breakdown and separation of refugees coming to the Italian coast versus the Greek coast. I learned that while Greece receives mainly Syrian, Afghani and Iraqi refugees, Italy receives a much more diverse refugee flow mainly from African countries like Sudan, Eritrea, Nigeria and Somalia. Knauss also touched upon the need to integrate refugee in to society and reach beyond just setting up camps for immediate response efforts. He mentioned that the Australian response to putting all refugees on the island of Nauru as a sort of dumping ground is completely unacceptable and if not avoided could become to future reality of the Greek island of Lesvos.
Overall, I was very impressed by the speakers and learned a lot from all of their speeches and presentations. While I did appreciate that all of the speakers had a different background and were able to bring distinguished perspectives to the event, if I had one criticism it would be that there could some additional speakers who represented even more diverse perspectives. For example, I would have like to learn from someone who had a bit more on the ground experience with the refugee crisis. I think that when discussing an issue with a certain type of population involved, it is incredibly valuable to have a credible voice from that affected population to fully gain a holistic perspective. Going forward I will definitely be able to use the information I learned from the symposium in enhancing my studies and responsibility to becoming a global citizen.