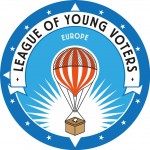 Catchy title in today's euronews: "Could youth vote stir up next European elections?" Excerpts from Anders Melin's article below.
"A survey released by the European Commission last week showed 65 percent of eligible voters below the age of 30 plan to vote next year, with a particular rise among first-time voters. That represents a sharp departure from the past.
Total voter turnout has declined at all seven elections since 1979, dropping to just 43 percent in 2009. Of that, youth turnout has been among the largest decliners, sliding to 29 percent in 2009 from around 33 percent in 2004.
The last three years of economic turmoil have been extremely tough for young people throughout Europe, but particularly those in the south – Greece, Spain, Cyprus, Italy and Portugal – which has suffered most during the crisis.
Youth unemployment in Greece and Spain now stands above 50 percent and sociologists are genuinely concerned about the risks of a "lost generation", with the possibility that some young people will never secure a job in their lifetime.
The frustration that generates has already been seen in demonstrations on the streets of Athens, Madrid and elsewhere – there have been days of riots on the streets of Sweden – but it may also be vented via the ballot box…
if the predicted doubling of youth votes does happen, it promises to send reverberations across the political landscape, much as it has done in Italy, where the Five Star Movement captured 60 percent of the youth vote in February, turning it into one of nation's most powerful forces overnight.
The question is whether young voters will give their support to the traditional blocs – the centre-right EPP, the liberal ALDE group or the Socialists – or instead lean towards anti-EU parties such as Britain's UKIP or Finland's True Finns…
Suddenly, elections that haven't much mattered for three decades are shaping up to have a real impact."