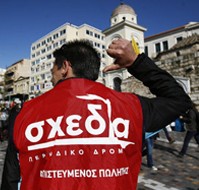 I have been going through Shedia's website recently. Shedia is a street paper part of the International Network of Street Papers.
It is a very well organized website now, compared to the last time I had checked it which I think it was almost a year ago (maybe even more). I have been buying this street paper for a while now and I have seen that its topics have gradually evolved to be very interesting and of rich content.
Shedia operates under the auspices of the Diogenis NGO and it has a variety of articles published with a an orientation towards daily social issues.
Diogenis undertakes other actions to help people who are socially excluded in becoming active members of society again. One of them, "Goal to poverty" is the formation of the national Greek football team of the homeless that takes part to the Homeless World Cup. Then they have what might be of interest to students as well, the homeless tours. These are tours around the streets of Athens given by trained guides.The guides' goal is to show the challenges to be faced while living on the streets, their actual perspective, a situation we have never been in and w dread even thinking about: living on the streets.
Buying Shedia is an act of solidarity as is characteristically stated on the website itself. Half of the amount one pays for it goes directly to the seller.
The first time I encountered a street paper was while I was walking around in the Center of London. Not being familiar at that time with a street paper I remember asking my significant other, who has lived in the UK, what it was about, so I was very glad to encounter Shedia as well after a while in the center of Athens.
The face of those selling the paper is always amazingly eye-catching to me. Their eyes have always got a story to tell, and even if you don't have the time to listen to their story, you detect it in their eyes. What moves me every time I buy an issue, is the incredible joy I see on those faces. You know that we always say that homeless people living on the streets are invisible to our eyes (in Shedia's website it is stated that the word invisible is actually their term), it seems that in those instances when you ask for a paper and you chitchat for a couple of minutes they are happy that they are not invisible anymore, always in a hurry to give you the paper and to inform you about it.
I would urge our readers next time they see a Shedia seller to approach them and learn more on the paper and maybe the seller as well. The website is in Greek so Greek language speakers will have an opportunity to learn more about the NGO's actions and the paper itself; those who do not speak Greek and who are not familiar with street papers may visit the International Network of Street Papers' website.
N.B. ΤΟ ΕΛΛΗΝΙΚΟ ΠΕΡΙΟΔΙΚΟ ΔΡΟΜΟΥ ΚΥΚΛΟΦΟΡΕΙ ΤΕΛΕΥΤΑΙΑ ΤΕΤΑΡΤΗ ΚΑΘΕ ΜΗΝΑ.