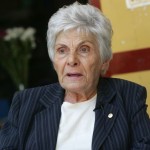 By Maria Patsarika
"She faces the music" – I can't think of a better way to express my own thoughts about Kiki Dimoula, a great (the greatest?) poet of our times, and the uproar that her apparently xenophobic public comments caused. My inital reaction was surprise and disappointment in her. Greek intellectuals appear perplexed, lacking the nerve to maintain their public role with lucidity and vigour.
However, the issue is more complex than this, and Soti Triantafullou, among other writers, partly tackles it. The ideological labelling that has suffocated and distorted pubic voice and free expression for years is still dominant, she explains. The media are relentless and we should know better. All this confirms (a) the ease with which they misleadingly scapegoat those who least deserve it and (b) how myopic we are in believing that by adopting a pseudo-tolerant standpoint we discard racism. Our only "achievement" is to show politically correct.
Whoever lived in Kypseli, where Dimoula lives in Athens, would experience first-hand what it means to live in a ghettoed area. If you happen to live in Thessaloniki, as I do, here is a challenge: those who have the guts to cross the Aristotelous Square above Egnatia Street late at night, or Dendropotamos, please raise hands. I don't. The fact that I don't and, consequently, don't have to talk about it, makes no difference. It certainly doesn't make me less intolerant than Kiki Dimoula.
Notwithstanding her imprudence and/or naivety in thus expressing herself publicly, this is a case for reflecting and acting on the concrete manifestations of xenophobia and those actually responsible for the tresspassing of our lives, politics, properties, public space, education and jobs.