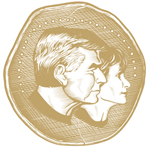 By Lydia Richards.
Nailing down a definition of public and humanitarian service is difficult. It is one of those tricky phrases that means something different depending on the context in which it is examined. I think it is important to explore the implications of the definition, especially for me as an intern for an organization whose focus is on this very service. For the purposes of this post, I am going to look at non-governmental examples.
I love to look at the dictionary definitions of words. So naturally, I immediately turned to Merriam-Webster online when I started writing this post. Merriam-Webster says that "Public Service" (in the context I am discussing is defined as), "something that is done to help people rather than to make a profit." I love this — the action of helping with expecting nothing in return.
Public and humanitarian service takes a lot of different forms. It can be exemplified through a lifetime working on the front lines of disease, political conflict, and grave humanitarian need. It can be as small as spending an afternoon gardening at a local community garden. It can simply be picking up trash on the walk home from the grocery store. Service means something different to everyone.
I am currently in a unique class at ACT, the "Service Learning Practicum" taught by Dr. Maria Patsarika. If you have been following Politis for a while, you will recognize Dr. Patsarika as a frequent contributor and member of the Dukakis Center team. Her service class is one of the most unique classes I have taken. The class is centered around structured student service at  a local organization. The uniqueness comes from the added dimension of a portfolio project that will develop into a proposal of sorts to give to the organization. This is intended to be a lasting "legacy" of our work at the organization, a suggestion, observation or proposal for the benefit of the organization. We are working alongside, and under the guidance, of mentors within each organization.
This model of structured service with benefits to both the student and local organization is one that I have not encountered before. I clearly see the Merriam-Webster definition of "something that is done to help people rather than to make a profit" in action through this class. Of course, I am receiving a grade for my work at this organization, but Dr. Patsarika has structured this class in such a way that the focus is not on grades, but rather on leaving something meaningful that will last beyond a short, 11 week class.
So, even though we are still in the early stages of the class, I am fully expecting this class to be one of the most impactful experiences of my time in Greece. Learning to be a public servant not for profit, but to help.