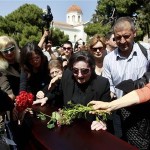 By Alyssa Olivo
As a New Yorker and visitor of Greece, my view on the crisis differs from natives. Our newspapers tell stories about riots in the streets and articles talk about austerity endlessly but the main question and concern is what's going to happen to the euro.
It's rare I do not hear or read an article about everyday life in Greece; comments are made about businesses closing down and the unemployment rate increasing day by day. However, the focus is rarely put on the individuals themselves, those who are struggling to survive and the ones who don't.
In my short time in Greece I have listened to taxi drivers and restaurant employees talk about how hardworking and proud Greeks are, families are tight knit (as are friendships) and mothers are very protective of their sons. When they talk about the crisis and their personal struggles they say it's hard and some talk adamantly about the government. Through conversations and media back home I never imagined the worst was happening in Greece.
In my eyes the final act of desperation is suicide. Barbara Argurio, a wife, a mother and a working woman, committed suicide because she was struggling to provide for her family.
"It was not death that made my mother a heroine," wrote Petros Arguriou in memory of his mother in a blog post. "Not like it happened with the hero Dimitris Christoulas, the pensioner who publicly committed suicide in 2012 to stall the genocidal policies enforced in Greece."
In 2012, experiencing his own financial problems, Christoulas shot himself in the head in Syntagma Square. He left a note, which blamed the government for his death.
I don't condone suicide but I can understand desperation. I'm used to seeing homeless people sleeping on the street, stores closing down frequently and people ranting and raving about debt. We experience our own financial problems but we're convinced we'll prevail by fighting back.
According to Elena Panaritis, in The Huffington Post, suicide rates have increased 40 percent since the start of the economic crisis.
Greeks are fighting back but they're doing it in a way where they're adding fuel to the fire in their own country. The media can add Arguriou's suicide to the growing numbers, making her just another statistic.
Those that have given up their lives because of the crisis are seen as heroic by family and others in the country. The act paints a horrific picture for the media if they deem it worthy enough to focus on and pushes blame on the government.
However, the problems don't disappear. The deceased just becomes one less person the government has to worry about.