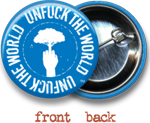 June 8 is "Unfuck the World Day." Seriously.
According to the team at UFTW, "Unfuck The World Day is dedicated to all the people who are awakening, who get up, go out and make this world a better place, every day."
You can organize your own party to mark the date. Here is how.
"On June 8th, 2013 the 1st Annual Unfuck The World Day will be taking place in several countries around the world; this year's events will take place in Reykjavik, Iceland; London, UK; Hamburg, Germany; Wausau, USA; Los Angeles,USA; Subic Bay, Philippines and Melbourne, Australia, and we would love for your city to become part of the event! How can you do that? By throwing an Unfuck The World Day Party!"