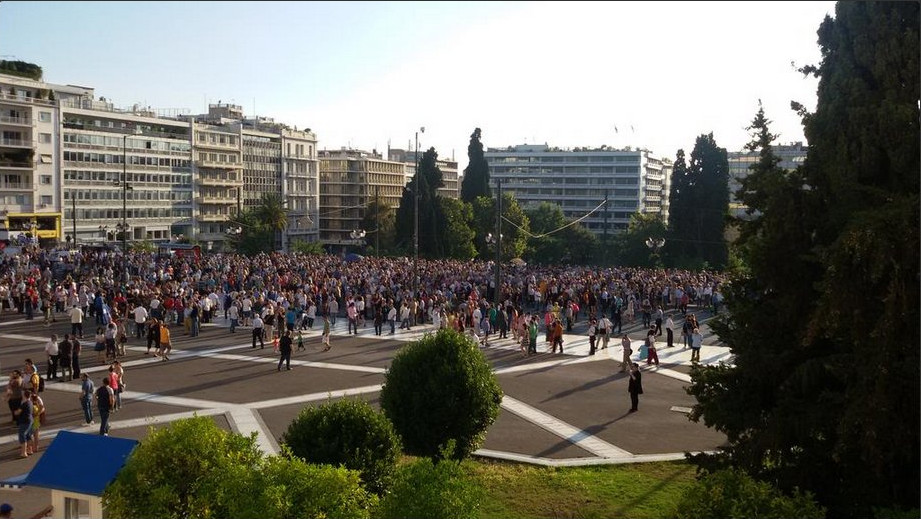 By Krysta
Editor's note: Krysta Kalachani has been a regular contributor to Politis from Athens since 2010. She attended anti-memorandum rallies in downtown Athens throughout the summer of 2011 — despite managing two companies — and has a particular interest in the development in Greece of alternative media. Here Krysta reflects on some of the political and social implications of popular rallies outside the Greek Parliament during the week of June 15-19, 2015. NB It is not the explicit purpose of Politis to endorse candidates, parties, or individual political figures.
These are sad sad sad times for Greece.
The two rallies that took place this past week are not like the ones of 2011. They are clearly not a spontaneous reaction of society. They make me sad because I see the two extremes everyday fighting each other, be they parties' politics, government's decisions (whether good or bad) and huge social issues like immigrants arriving in Greece everyday.
Who went to the rallies?
I think both rallies are taken advantage of by the left and the right respectively, if not organized by them. This is a bit sad. Anyway it seems also that apart from the pro-government/anti-austerity audience, at the first rally there were members of the general public as there were again yesterday, despite the anti-Syriza/anti-government character of the second rally.
I didn't see much of a difference in the numbers of people at the rallies. What is sad and infuriating at the same time, once again, is the role of the media. The first rally was claimed by mainstream media as not of importance, while the media that you could characterize as leftist or pro-goverment were showing photos, etc., and today the situation is the exact opposite, the mainstream media portraying yesterday's rally as much bigger and so on.
In fact I am confused by the photos of the numbers of people at both rallies. I think there may have been more at the pro-government rally, but what I detect on Twitter and other social media is that the image of the huge crowds of people is not really accurate. I read the following tweet by journalist Matina Stevis that struck me as exact:
Seems pro-EU demo in Athens yesterday was divisive. Personally I want #Greece in #EU & an EU that doesn't blackmail its own #MenoumeEvropi
Ρegarding the rallies , another thing… Ιn 2011 we were drowning in tear gas every day. Did you see any tear gas yesterday or the day before?
So now I see that there is another pro-Europe rally in Thessaloniki next Monday, and another pr-government (or anti-austerity rally in Athens this Sunday.
Perished unity.