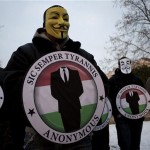 Bit and pieces below from an essay by Nicco Mele in Salon on Anonymous and the threats of hacking to contemporary security.
"Anonymous, untraceable private networks—the kind that can be built by technology like FabFi or Tor—are called 'darknets,' literally networks that exist in the shadows of the Internet. They are increasingly easy to build, approaching a trivial level of technical competency. A tool like Tor is a lifesaver for pro-democracy activists risking their lives for fundamental ideals of justice, liberty, and freedom, but it also makes some of the most egregious pedophiles and terrorists harder to catch and hold accountable. Tor has spawned a terrifying dark side, an unregulated free-for-all where anything—literally, anything—goes, without consequence or concern for human safety and social mores. This, too, is part of radical connectivity's abiding and intensifying challenge to the traditional power and authority of the nation-state.
Talk of darknets leads naturally to Anonymous, that loose affiliation of hackers who undertake digital actions for vigilante justice… More than any other story from our modern era, Anonymous illustrates the crazy, mind-bending paradox of the opportunities and dangers of an era in which the authority conferred by military power is in decline. Anonymous also offers a glimpse into what future institutions might look like—networked versus hierarchical, with strong cultures, customs, and values, but without a due process in which every individual is equally empowered. Understanding Anonymous is an important part of understanding where we're heading in the End of Big…
Who, or what, is Anonymous? That is very, very hard to say. There is no clear leadership, no hierarchy, no particular home. Things happen with Anonymous via a sort of snowballing: one person starts to do something and then reports back via any one of a number of online forums where like-minded folks might be hanging out, and activities gradually take shape, with support gathering from across the Internet. Tens of thousands of people—perhaps even hundreds of thousands—have participated in Anonymous actions, from online hacker attacks to real-world, in-person protest marches where Anonymous members wear Guy Fawkes masks. When Anonymous claims to have struck, it could be just about anyone, so loose is the label.
But even if Anonymous seems an ill-fitting label for a vague movement of people across the Internet, it still carries cultural weight as an embodiment of the changing nature of security and power…
Anonymous is like a volunteer police force targeted to entities that pursue censorship and surveillance—the opposite of anonymity. But it exists without the kind of process, context, or companion institutions that might shape it in ways that would improve it, and our world.
I would propose… that Anonymous is a bit more than a culture. It's the beginning of a new institution, part of the massive reorganizing of power happening in our age of radical connectivity. The phenomenon is figuring itself out, trying different modes of operation—including different modes of participation—and trying to build some kind of coherent philosophy. It may not always look that way, and you may not like the institution it is becoming, but it is without a doubt becoming something.
The task of imagining new institutions is hard. How do we do things without precedent? Anonymous is like a volunteer police force targeted to entities that pursue censorship and surveillance—the opposite of anonymity. But it exists without the kind of process, context, or companion institutions that might shape it in ways that would improve it, and our world. Anonymous jettisons centuries of intense debate about the purpose of government and the methods of holding power accountable, and yet it seems better suited to the challenges of our era than many of our militaries and related entities. Our challenge is to take the lessons of Anonymous and its emerging model and recraft it so as to ensure public order and sustain the fundamental values of our democratic institutions."