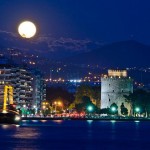 This weekly feature offers a glimpse of what is happening in and around Thessaloniki. Compiled by Laura Strieth.
Thu 7th Mar- A Social History of Yoga- Mr. Nikos Dimitriadis invites everyone to join his 'Religions of the World' class at ACT as they learn about the history of Yoga.  During the session, Ms. Spyridoula Bakoyianni will present the basic premises of yoga action, the different forms of yoga techniques and various aspects of the ideological content of yoga for practitioners.  She will also conduct a basic yoga lesson in the classroom. Venue: ACT New Building 102, 2pm.
Thu 7th Mar – 4th Annual Bicycle Carnival- Join the parade of masked cyclists for a bike ride around the city during Carnival. Dress up as crazy as you can, find a bike and join. The parade will be followed by a party and live music, circus acts and lots of dancing. Location- Xrimatistipiou Square in the area of Valaoritou, at 7pm.
Thu 7th Mar- Max Cooper- Scientist by day, DJ by night! Max Cooper has more than 50 original releases, tracks and remixes under his belt.  Using his passion for science as inspiration, he is remixes a variety of music from avant-garde composer Michael Nyman to bands like Hot Chip and Au Revoir Simone. Location: Block 33, 26is Oktovriou 33, at 10pm.
Thu 7th Mar – The Shantel – All over Europe, boys and girls are bringing back the DISKO tunes and Balkan Pop music. DJ Shantel is in Thessaloniki to turn Gaia Live into a balcan disko party! Location: Gaia Live, Doxis 5 and Salaminos. Entrance is Free.
Fri 8th Mar- Radio Moscow- Radio Moscow have a garage music history but have recently evolved to channeling blues with experimental breakdowns, unpredictable tempo changes, crazy rave-ups and psychedelic guitar work. Location: Gaia Live, Doxis 5 & Salaminos, at 9pm. Entrance is 15 Euro.
Fri 8th to Sat 9th Mar- 4th Annual International Strategy Security Conference – The theme of the conference is 'The Changing Nature of Challenges'; the conference is sponsored by NATO.  There will be different sessions regarding International Security, Transatlantic Relations, and International Strategic Affairs led by very strong and qualified speakers.  Register today at http://www.strategyinternational.org/conference2013/index.php/register if you would like to receive a certificate.  There are also group discount rates available if you register by March 6th.
Sun 10th Mar- Safari to the Countryside- Enjoy a pleasant bike ride through the countryside of Thessaloniki and discover places that many people do not even know exist! The ride will take you through Kalamaria, Finikas and Neo Rissio. The meeting place is at the Thessaloniki Concert Hall at 10.30am. Bike rentals are 5 Euros. To sign up email or call cyclesafari at: info@cyclesafari.gr, tel: 2310 805 514 mobile: 6970986546.