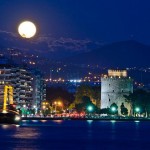 NOW till Monday 1st Apr – The Greek Monsters – The Beetroot Design Group and the Macedonian Museum of Contemporary Art present a three-dimensional sculptures exhibition featuring the Minotaur, the Cyclops, the Stymphalian birds and the rest of the bizarre creatures that haunted heroes' deeds in ancient Greek mythology. The exhibition consists of installations, sculptures, figurines, stencil graffiti (resembling a contemporary frieze), but also 'invisible' monsters that can be perceived only with the use of audio–visual technology. This is a MUST see exhibit! Location: Macedonian Museum of Contemporary Art, Egnatia 154. Entrance is 4 euro.
Thu 28th Feb-PillBOX Open Market 'Bubblegum'- The PillBOX open market is back featuring handmade crafts, accessories, clothes, ornaments, cosmetics, collectable vinyl and many more unique items at low prices.  PillBOX will be collaborating with "Pimp my Style" and will be offering visitors the chance to transform their looks with new hairstyles, make-up tips and nail art.  Location: Kitchen Bar, Port Area, from 1pm-12am.
Fri 1st to Sun 3rd Mar- Grito Rock Thessaloniki, Olympus 2013- Grito Rock is a festival that is taking place in 300 cities and in 30 countries around the world. Grito Rock is in Thessaloniki for the first time and will be dedicated to Mt. Olympus with events centered on the protection of this sacred mountain. It is also an opportunity for up and coming Greek artists to display their musical talents on an international stage. To find out about the different live performances and venues around the city please click here.
Fri 1st Mar- Chinawoman- Chinawomen will be performing her hit songs in Thessaloniki.  Her music is driven by a subterranean beat and signature deep vocals.  Chinawoman's songs maneuver between grandiose retro motifs and a surprising sincerity.  Location, Block 33, 26is Oktovriou 33, at 9pm. Entrance is 15 Euros.
Sat 2nd Mar- Field Trip Club- The first field trip of the semester will take place this Saturday, join them on their visit to the Archaeological Museum of Thessaloniki.  Anyone interested should meet Mrs. Lamprou at 12 noon by the entrance of the museum.
Sat 2nd Mar- Woven Hand- Woven Hand from Denver, Colorado, with former lead singer of 16 Horsepower, David Eugene Edwards, will be performing in Thessaloniki this Saturday.  Their music is a combination of neofolk, alternative country, rock, industrial music and Native American music.  Location: Block 33, 26is Oktovriou 33, at 9pm. Entrance is 20 Euro.
Thu 7th Mar – 4th Annual Bicycle Carnival- Join the parade of masked cyclists for a bike ride around the city during Carnival. Dress up as crazy as you can, find a bike and join. The parade will be followed by a party and live music, circus acts and lots of dancing. Location- Platia Xrimatistipiou in the area of Valaoritou, at 7pm.
Fri 8th to Sat 9th Mar- 4th Annual International Strategy Security Conference – The theme of the conference is 'The Changing Nature of Challenges' and the conference is sponsored by NATO.  There will be different sessions regarding International Security, Transatlantic Relations, and International Strategic Affairs led by very strong and qualified speakers.  Register by March 6th at their web site if you would like to receive a certificate.  There are also group discount rates available if you register by March 6th.