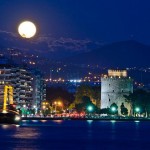 This weekly feature offers a glimpse of what is happening in and around Thessaloniki. Compiled by Laura Strieth.
Thu 21st March- Milo-Z Live- He calls his music "Razzamofunk", a combination of Rock, Rap, Jazz, Blues and Funk.  Inspired by the music he grew up with in New York City's Lower East Side, Milo-Z's music has a gritty, funny, soulful and unique edge. Location: Gaia Live, Doxis 5 & Salaminos, at 9pm. Entrance is 12 Euros.
Fri 22nd March- Indie Fest Vol. II- Indie Fest is back at Gaia Live after its success last year.  This year there will be three indie rock groups performing: The Rundays, Sonic Rage and Laissez Faire.  Location: Gaia Live, Doxis 5 & Salaminos, at 9pm. Entrance is 3 Euros.
Fri 22nd March- Glow Strikes- At one of the most beautiful areas of the city, with an extensive sea front view, a party full of light will take place. Glowing sticks, necklaces, bracelets and other accessories will be handed out to all attending. Location: Remvi, Kanari 2 Kalamaria, at 11pm. Reservations must be made ahead of time by calling 2310433100.
Sat 23rd March- Cinema Paradiso- A musical performance of songs originally composed for Greek and international movies.  John Savvidis, on the violin and Valeria Charitidou, on the piano will transport you to the world of film through music. Location: SourLiBoom, K. Kristakki 4, 4th floor, at 9pm.  Entrance is 8 Euros.
Sun 24th March- 'Let's Make It' Gallery- A group of 50 artists are putting together a 'do it yourself' gallery.  On display will be vintage, handmade, and secondhand clothes as well as art, jewelry and accessories made with a variety of materials and techniques. Location: Block 33, 26is Oktovriou street #33, at 11am. Entrance is Free.
Mon 25th March- Greek Independence Day – The 25th March is a double holiday: a historical and a religious one. Greeks celebrate the War of Independence against the Ottoman Empire as well as the Annunciation by Archangel Gabriel to the Virgin Mary that she should become the mother of Jesus Christ. Those interested in joining the Independence Day parade, it starts on Leoforos Megalou Alexandrou & Stratigou Kallidopoulou and goes through the city, it will begin at approximately 11am.
Reminder: Fri 15th to Mon 25th March- The 15th Thessaloniki Documentary Festival- The Documentary Festival is a MUST if you are new in Thessaloniki, it screens and promote the most important documentary productions from all over the world and strives to create an international forum for the presentations and discussion of emerging media and information technologies. Films are separated into eight different categories for selection. For more information on films and screening times visit tdf.filmfestival.gr.