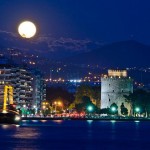 This weekly feature offers a glimpse of what is happening in and around Thessaloniki. Compiled by Laura Strieth.
Now-March 10th– Places of Memory- Fields of Vision- An exhibition which showcases painting, prints, photographs, videos and installations that intertwine and focus on Thessaloniki's present and past, the imagining of its past life and its dynamic projection in the future. Location: Contemporary Art Center of Thessaloniki (Warehouse B1, port).
Thu 21st – Thur 28th Feb- World Reggae Poster Exhibition- An exhibition from the National Gallery of Jamaica is on display at Block 33. The top 100 Reggae posters were selected during the global "International Reggae Poster Contest, 2012" competition and can be viewed at Block 33. Location: Block 33, 26is Oktovriou 33. Entrance is Free!
Thu 21st-Sun 24th Feb- PEIRAMA (experiment)- An exhibition depicting scenes of the city of Thessaloniki, the entire province, different countries and continents.  The work offers a distinct visual approach of the people and children from these different areas. Location: Charro Negro, Sygrou 15, at 9am-12pm. Entrance is Free!
Sat 23rd Feb- Harlem Shake at the White Tower- The newest international craze has arrived in Thessaloniki. If you would like to be a part of the amusement, bring along your craziest and most colorful outfit and accessories and join the flash mob!  The goal is to create the best Harlem Shake video in Greece! Location: White Tower at 3pm.
Sat 23rd Feb- Natassa Mare Trio- this is a performance by three wonderful musicians that are characterized by their particular sensuality and skillfulness.  It will consist of renowned international jazz songs and songs from their own discography.  Location: Burlesque, Skra 10, at 10pm. Entrance is 3 Euros.
Sat 23rd Feb- Splash Wars- What happens when 4 dynamic groups of the city join together in a shared event? A crazy colorful party! Join in on an evening of absolute freedom, without thoughts, positive energy, music and fun. Put on your white clothes and come fill your lives with colors! Location: Block 33, 26is Oktovriou 33 at 10pm. Entrance is Free!
Thur 28th Feb- The National Fanfare of Kadebostany– Kadebostany is a surprising and beautiful organized chaos. The sounds of cello, accordion, banjo, saxophone and bassoon create an atmosphere of noise and euphoria. They bring a mix of pop, electronic, Balkan, instrumental, oriental and unique rhythms. Location: Principal Club Theater, Georgiou Andreou, at 9pm. Entrance is 15 Euro.