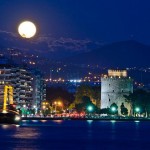 This weekly feature offers a glimpse of what is happening in and around Thessaloniki. Compiled by Laura Strieth.
Thu 14th to Sun17th March – Slava's Snowshow- The multi-award winning international sensation, Slava's Snowshow, will be performing in Thessaloniki. Experience a joyous dream-like world which will touch both your heart and funny bone, culminating in a breathtaking blizzard leaving you literally knee deep in snow! Location- Thessaloniki Concert Hall, 25is Martiou, 8pm-1030pm. Tickets range from 30-60 Euro (20% discount for children/students).
Fri 15th March- Women of Petras– A musical and dance performance that will take you on a journey from the shores of Southern Italy to the mountains of Epirus and the Balkans. This is an explosive meeting of unparalleled polyphonics by Pleiades and the ecstatic tarantella by Encardia. Don't miss this extraordinary fusion cultures and blended history through music and dance. Location: Concert Hall at 21.00. Entrance is 13euro.
Fri 15th to Mon 25th March– The 15th Thessaloniki Documentary Festival- The Documentary Festival is a MUST if you are new in Thessaloniki, it looks to introduce and promote the most important documentary productions worldwide and to create an international forum for the presentations and discussion of emerging media and information technologies.  Films are separated into eight different categories for selection.  For more information on films and screening times visit tdf.filmfestival.gr.
Fri 15th March– Balkan Fest Vol. 2- Following its massive success last year, the Balkan Fest is back for a second time.  NGO 'Kids In Action' and the free press 'Exostis Magazine' will transform Block 33 into a scene out of an Emir Kusturica movie.  There will be music, movies, art and food that exemplify Balkan culture. Location: Block 33, 26is Okovriou, 6pm-1145pm. Entrance is 5 Euros.
Sat 16th March – 70th Anniversary of the First Deportation of Jews from Thessaloniki to Auschwitz- during the Nazi occupation of Northern Greece, over 90% of Thessaloniki's Jewish population was sent to Auschwitz. The Municipality of Thessaloniki in collaboration with the Jewish community of Thessaloniki are organising a variety of events. The original deportation collected the Jewish people at the Platia Eleftherias and marched them to the train station to be taken to death camps. This Saturday the community of Thessaloniki is calling its citizens to remember this devastating day by walking from Platia Eleftherias to the train station, where one of the original wagons that carried the Jews to death camps will be standing. Location: Platia Eleftherias at the bottom of Venizelou St, near the waterfront. Meeting time: 11.30am.
Sat 16th March– Firewater Live- Firewater is an international band which draws musical and lyrical inspiration from around the globe. They believe that music can be a way to overcome everything the separates us.  They are the optimists in our pessimistic world. Location Gaia Live, Doxis 5 & Salaminos, at 10pm. Entrance is 15 Euros.
Wed 20th March– Dukakis Lecture by Stan Draenos- Historian Stan Draenos will be presenting his lecture 'Andreas Papandreou's New Nationalism and Kennedy's New Frontier: Greece in the Tangles of the Cold War'.  This event will be held in English in the ACT New Building Conference Room at 5pm.
On-Going Events:
Every Tuesday– Tuesday Night, We  Eat Out- After its successful 4 week run during the 2011 Thessaloniki Food Festival, the Municipality of Thessaloniki has been percuaded to bring back this event on a regular basis in 2013. So every Tuesday many restaurants throughout the city are offering set menus for 10 Euros/person.  For list of restaurants visit http://foodfestival.thessaloniki.gr/tuesdays/
Now until May 31st– Aegeon: 'The Birth of an Archipelago'- This is a major exhibition on the genesis and creation of the geological treasures of the Aegean. There are rich photographic materials, audio-visual representations and interactive presentations that portray the beauty of the islands and the coast lines of Greece. Location: NOESIS- Science Center and Technology Museum, 6th KM Thessaloniki-Thermi. Tues-Fri 9am-230pm, Sat 130pm- 830pm, Sun 1130am-630pm.
Walking Tours of Thessaloniki– Get to know Thessaloniki on foot.  There are many walking tours offered that visit an array of historically and culturally interesting areas of Thessaloniki.  Explore the rich history that this beautiful city has to offer and learn what it has to offer! For tour information visit http://www.symvoli.gr/conference/thessalonikicity/page/walk.