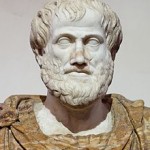 Aristotle was, arguably, one of the fathers of the idea of public service. With this in mind Politis brings the following announcement to the attention of its gentle readers.
"The Aristotle University of Thessaloniki (AUTH) on Feb. 13 will host an International Colloquium on Aristotle, featuring a series of lectures presented by researchers specialized in the famed philosopher's studies, from Belgium, Germany, the USA and Greece, organized by the Interdisciplinary Centre for Aristotle Studies
The aim of the conference is examination of the various aspects of the Aristotle philosophy by special researchers. The subjects concern Ethics, Metaphysics, Theology, Physics, Psychology, Biology and Economics, with special reference to issues such as the relation between physics and metaphysics, medicine and ethics in Aristotle's work. The lecturers will address the theory of mediation, the theory of "pneuma" (spirit), perception and thought, science, biological adaptation and environment, functional anatomy and economics.
The keynote speaker will be Lambros Couloubaritsis, Professor Emeritus of Philosophy, Free University of Brussels. He will talk on From Physics to Metaphysics on Aristotle.  Admission is free to the public. The event will be held at 7 p.m. at the Auditorium 1 Research Dissemination Centre (KE.D.E.A.) of A.U.TH."
.