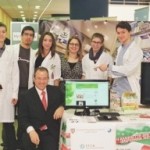 By Christina Flora
A Greek team of student-entrepreneurs won first place at the Pan-European trade fair, organized by the international organization Junior Achievement Europe (JA-YE), in Riga, Latvia, with 450 pupils from secondary schools and high schools from 30 countries of Europe and Africa participating.
Business ideas were presented in the exhibition and combined technology and ecology in an innovative way.
The Greek Student Company ETEK, (Company of Smart Consumption.)  the Costeas-Geitonas institutions, got a Pan-European distinction Social Responsible Business Award for an application for smartphones named My Pharmacy. It alerts the owner of an impending expiration of medicines and proposed a network for their availability, through non-profit organizations, hospitals, etc.
The students were cited for excelling in social consideration, with which they approach the sensitive and contemporary matter of medicines' availability, especially during Greece's crushing economic crisis which has adversely affected health care.
Originally published on March 22, 2013, in Greek Reporter, at http://eu.greekreporter.com/2013/03/20/greek-students-win-eu-competition/.